Cheese Curd Giveaway Rules & Information
Did you know…? We hold weekly giveaways for fresh cheese curd on our Facebook page! Be sure to like and follow the Adams Cheese Shop for your chance to enter! Read all the details below, as well as a few simple rules to keep things fair and fun for everyone.
Once a week, typically Wednesday, a post will be added to Facebook announcing the start of a new giveaway. Entries are accepted until the following afternoon (Thursday), after fresh cheese curd is bagged and available for sale.
One random winner will be selected from all the comments on the weekly announcement post (one entry per person). Comments on images, shared posts, etc. are not counted. The winner is selected at random via live video, and will be notified by private message.
The prize is one large, 1.5 lb. bag of plain Great Lakes cheese curd.
Prize may be alternatively requested as a one-time credit toward other quantities of plain Great Lakes cheese curd at the equivalent value of 1.5 lbs. of cheese curd ($13.73 as of 10/19/2022).
Contest winners have 2 weeks to claim their prize. Prizes are to be picked up in-store; no local delivery. Winners must present proof of their identity (or winning Facebook message) at time of pickup. Prizes can be shipped within the U.S. at an additional shipping cost, to be paid by the winner.
Winning entrants will not be selected more than once in a 2 month period.
Be sure to follow the Adams Cheese Shop on Facebook, @AdamsCheeseShop, to look for the weekly cheese curd giveaway drawing announcement. Good luck!
Beware of scams!
We announce the winner of the weekly cheese curd giveaway via Facebook Live video, and will send a private message to the winner with the details on how to collect their prize. If you get a reply to your comment like the one below, please ignore it and report it to Facebook!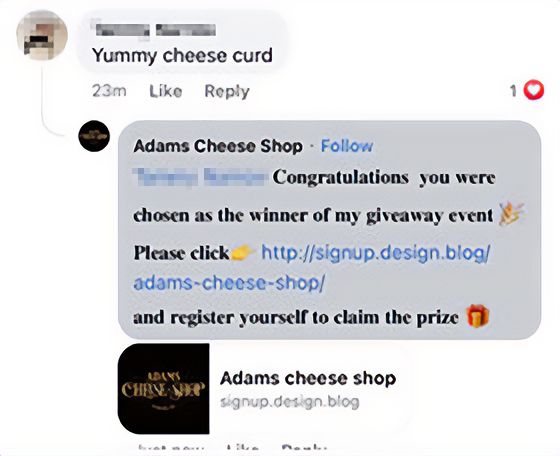 How can you tell if it's a scam?
Strange font that doesn't look like typical Facebook text.
A link that leads to any website other than ours: https://AdamsCheese.shop
Odd phrasing probably translated from another language into English.